Church Address
138 – 142 Lake Street
Cairns, QLD 4870
Tel: 4051 2429
E-mail: Church Office
Website: cairnsbaptist.org.au
Postal Address
PO Box 45
Cairns, QLD 4870
"At Cairns Baptist we are a people who are "Intentionally following Jesus."
We are a church that Evangelises.
We are a church that Establishes new believers.
We are a church that Encourages all people to follows Jesus.
We are a church that Equips believers.
We are a church that Exalts Jesus.
We aim to communicate God's Word, to win and bring people to a completeness in Christ, and to equip them to fulfill the Great Commission in order to celebrate God's grace."
Regular Worship Services
Sunday Morning Worship 8.30am & 10:30am (Morning Tea 9:45am – 10:30am)
Chinese Fellowship 3.00pm
Sunday Evening Worship 6.00pm
Senior Pastor – Rev. Gary McGinty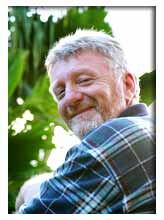 Senior Pastor – Rev. Gary McGinty Pastor Gary has held the position of Senior Pastor at Cairns Baptist Church since March, 2003. Prior to that time, he was the founding pastor of Mill Park Baptist in Melbourne for 16 years.
Gary trained as a motor mechanic and built his own successful business for 19 years before taking up the call to become a pastor. He is committed to Bible-based preaching and seeing the Church reach out into the community to share the love of Christ through good works and speaking the gospel.
Gary brought with him to Cairns Baptist a strong commitment to Home Groups as the place where Christians are able to grow and help each other grow as Christians. His desire is to see everyone in the Church ministered to in this way. He also believes it is important for every Christian to discover their spiritual gifts and use them in ministry.
Gary also holds the role of FNQ Area Co-ordinator for Queensland Baptists from Tully to Cooktown.
Gary has been married to Sue for more than 40 years. They have four sons and 11 grandchildren
Regular Activities
Monday – BeanBag Kids (prep & primary school) 4.30pm in the hall
Tuesday – Homegroups
Wednesday – Kookaburra Kids (up to school age) 9.30am
Thursday – Creative Ministries Workshop 7:15pm
Friday – Youth group. See here for details.
Other Ministries
You can listen to our podcast HERE.
To find out more about our other ministries and upcoming events, check out our website at cairnsbaptist.org.au